Embroidery is the wave
Embroidery is making a comeback this summer. No longer is it a grandma activity but it's now the hottest trend on denim, jackets, and most importantly shoes! Embroidery has actually been around since 1045 BC as a sign of power and wealth in China but now in 2018, it is a symbol that summer is upon us! The embroidered design adds an extra touch of glamour on each heel! It's a trend that many celebrities have been stepping into. From Taylor Swift's casual look to Gigi Hadid's sophisticated outfit, it's clear to see plain shoes are a thing of the past and it's time to bring out the embellished shoes.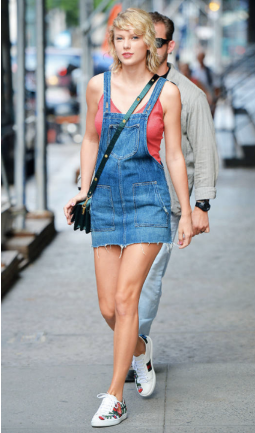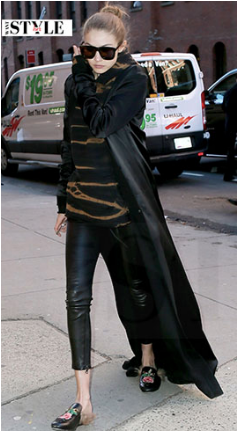 These beautifully detailed Mukkai Embroidered Floral Suede Chunky Heel are super comfortable and have a thin ankle strap to stay on your feet all night. Perfect, If you want to party or just always be looking your best like Chelsea of She Said, He Said. These beautiful open toe heels feature a soft vegan suede upper with a retro floral embroidery design, one band across vamp, and chunky wrapped heel. Finished with a cushioned insole, enclosed heel counter, and adjustable buckled ankle strap. Available in Black and Nude.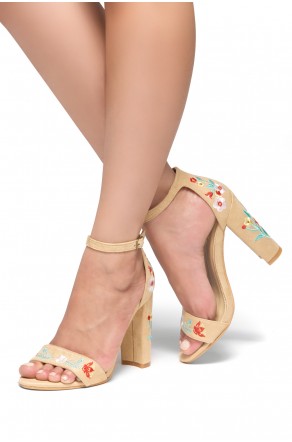 Nude Mukkai Embroidered Floral Suede Chunky Heel
More Embroidered Floral Heels to look at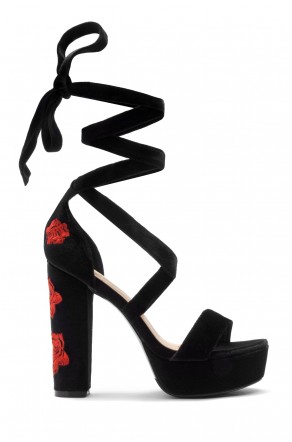 Tryceee Blue Floral Lace-Up Platform Heel In Black Faux Suede
One part chic and two parts sexy!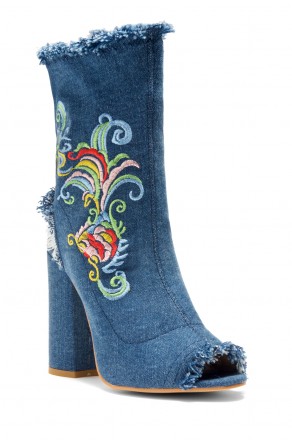 Women's Kattiee Peep-Toe Ankle Boot in Blue Denim with Floral Embroidery
This to die for blue denim boot would look perfect styled up with a t-shirt dress on your next night out!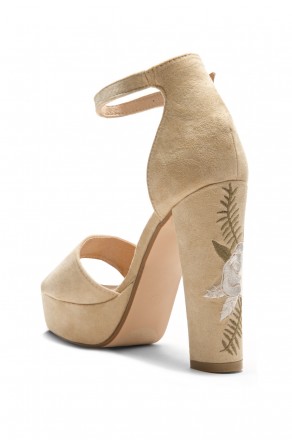 Ellisse Faux Suede Floral Embroidered Platform Heel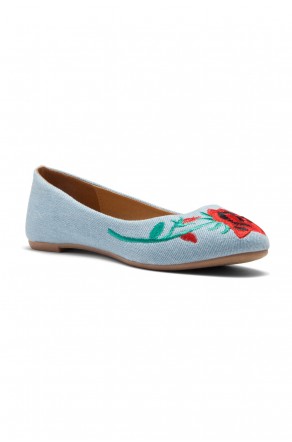 Majorca-Suede Round Toe Embroidered Floral Ballet Flat
Not just for off-duty days, give your casual Friday the perfect flirty touch it's been missing! Majorca features a round toe, stacked heel, floral embroidery and a lightly padded insole for comfort. Available in Black, Blue denim and Mustard.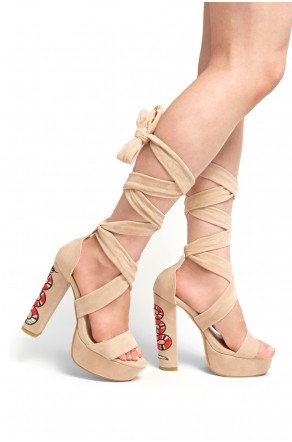 Marra Red Snake Embroidered Lace-Up Platform Heel
Hurry, these are almost sold out!