Sizing Guide
We want your feet to feel as fabulous as they'll look in our shoes! Use the table below to find the right size for you.
Sizes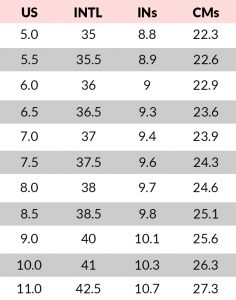 If you are unsure of your size, you can measure your foot. Follow these steps:
Put a blank sheet of paper on the floor.
Place your foot on the sheet of paper. If you plan on wearing socks or stockings with the kind of shoe you're considering, wear them while you measure your foot.
With a pen or pencil, mark the tip of your longest toe and the back of your heel.
Use a ruler to measure the length between the two marks.
Refer to the Inches or Centimeters row above to find your size.
If you are between two sizes, move up to the larger size.
Because we carry a huge variety of styles and cuts, there will be minor variations from shoe to shoe. If we feel a particular style varies beyond our above sizing guide, we will indicate our suggested size up or size down suggestions in the product description text. Worried about buying the wrong size? Please contact us if you are still unsure of the sizing for a particular style.
Our Size Run Promise: We make all of our shoe styles in sizes from 5 all the way to 11. Because we believe women of all shapes and sizes deserve great fashion. No more deciding between shoes that fit and shoes that look great. At Shoe Land, you can have both!