Trend Spotting: Southwestern Style
"The fashion world's been taking notice of southwest-inspired street style, most likely since it's taken the summer concert tour by storm. If you're thinking you need a pop of bright color, want to add a touch of pattern or geometric chic into your summer looks, look no further than this corner of the country." – The Fashion Spot
Not only the summer concert tour but last spring's fall-preview fashion runways as well.
Quite honestly, we're quite a bit in love with this look!
We've been enjoying earthy, flowing 70's styles all spring and summer, and southwestern style just bumps the whole look up a notch. A little heavier lines, a little thicker lace, a little brighter beads. Clean geometric patterns, sexy fringe, and bold colors. Yum!
And There are Shoes to Match?
Why yes, there are. We have a bunch, actually.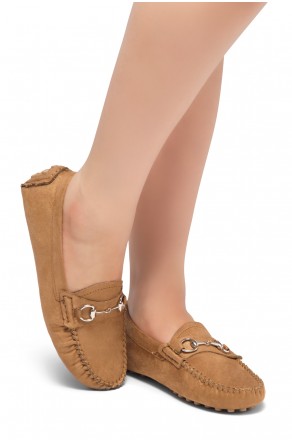 Have you ever worn moccasins? If not, you really should. Nothing. Seriously, nothing beats a moccasin for comfort. The only downside to a moccasin is the authentic version's single-layer leather sole. Those things don't last long on concrete, that's for sure!
We've given our moccasins a flat sole. It saves your feet from heat, rocks and unexpected lumps of all sorts, as well as giving your shoes some much-needed longevity.
If you're looking for a little more flair, our Daisha moccasins stand a little taller and sport a band of accented braid around the top of two layers of caped fringe. Our Giovanna is an ankle-height, inside-zip moccasin with a row of brass studs around its single layer of fringe. Relaxed and casual, these are low-key, good-looking shoes that are so comfortable you'd swear you accidentally left the house in slippers.
How do you wear moccasins, you ask?
Over skinny jeans with a print hippie blouse
Under boot-cut jeans with a bright tube top and lace tank over the top
With shorts or capris and a crochet bikini top
A slim sundress, a long beaded belt, and a straw hat
Or even a loose gypsy skirt, heavy turquoise jewelry, and a cowboy hat
Loafers and Heels
You get the idea – the styling ideas are just about limitless!
When Ralph Lauren introduced his fall 2014 line of clothing, there was southwestern style sprinkled liberally throughout. He called it "southwest bohemian meets downtown cool." Sounds intriguing, doesn't it?
Now we're seeing the rich and famous mixing their fashion details just like that: Business pantsuits with fringed loafers, a bright shell, and large stone jewelry. A leather jacket and jeans with moccasins. A form-fitting dress with wicked southwestern style heels, a fringed jacket, and tooled silver hip belt. Cool stuff!
On the opposite end of the style spectrum lies our Meekaa. With a towering cork wedge heel and layers of flamboyant fringe, these shoes are a fashion beast to be reckoned with! I mean, really, just look at these things! Check out our Beka lace-up loafer. It has a little moccasin styling to keep it laid-back, and it comes in a whole bunch of colors to make your hard-to-match outfits pop!
There are two important questions regarding the Meekaa:
1)     Do you have a classic denim mini and a bright coral or turquoise tank top? Yes? Good, you'll want that. And
2)     Do you have a black jacket or vest with fringe on it? Yes again? Good job. That will look amazing!
Cooler weather always brings us boot fashions, and this year is no exception. Just look at these beauties!
Boots
Our really cool Nabla boots have a cutting-edge fashion secret to them. Zip them up and have all-purpose combat boots, or fold them down and show off their southwestern print lining. Pair these with thick socks, an off the shoulder sweater and skinny jeans. Perfect for a laid-back date, a fall hike, or just looking really cute.
Our Kailee mid-calf heeled boots are a super-hot southwestern fashion statement – just look at these things! A thick, 3-inch heel, cowgirl boot styling, and a shaft covered with sturdy southwestern weave fabric. In cooler weather, these will be perfect with a fringed jacket or sweater. But enjoy them in warm weather too by putting them together with form-fitting jeans, a bright tank top and tons of irregular stone jewelry and beads.
Kick off fall with southwestern style! Check out our Pinterest page for more styling ideas about this trend.
Welcome to the southwest. Hot as anything down here isn't it?